The Brahma Kumaris at the United Nations
The Brahma Kumaris first connected with the United Nations in September 1980 and is an international non-governmental organisation (NGO) of the UN. We were always motivated by the work of the UN and wanted to enhance spiritual perspectives at a personal, community and global level. Our aims were in line with the aims of the UN and we wanted to facilitate a greater awareness of social responsibilities, foster sustainable human-centred development, support economic, social, environmental and human well-being, and promote gender equality. Over the years, we have attended numerous UN Conferences, preparatory meetings, commissions and prepared written and oral statements, hosted parallel events and worked with NGO committees and caucuses.
The United Nations was formed in 1945 as a result of the devastation caused by the second world war. The guiding principles for the UN was based on:
1. Helping to maintain International Peace and Security
2. Protecting Human Rights
3. Delivering Humanitarian Aid
4. Promoting Sustainable Development
5. Upholding International Law
Even though we are no longer post WWII, humanitarian issues are just as powerful now as they were back in 1945.
Dadi Janki addressing the United Nations
BK Representatives at the UN International Day of Youth event in New York 2014.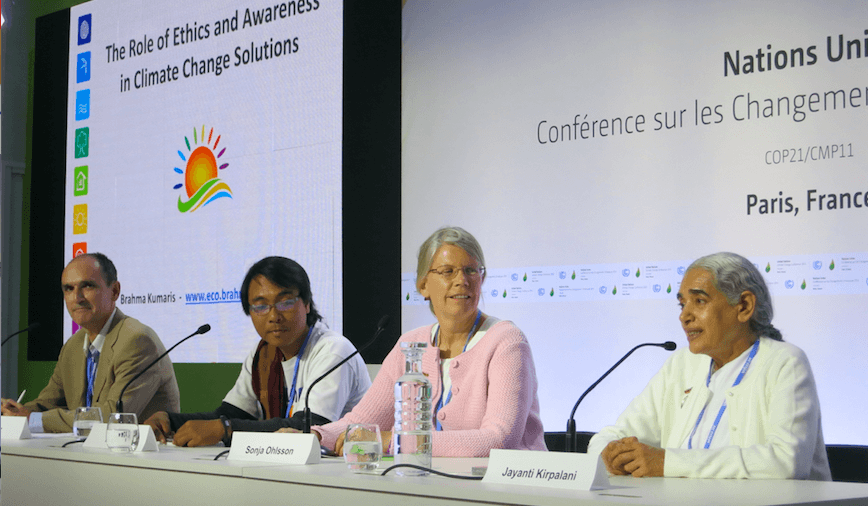 BK Environment Initiative delegation speaking at COP 21 in Paris, France 2015
Valerian Bernard speaking at the UN in Geneva about Non-violence.
All real change, big or small, occurs as a sequence of subtle shifts, beginning with a change in awareness.  A change in awareness precipitates a change in attitude; one's attitude colours one's vision; when we see the world in a new way, we can no longer take the same action we would have taken before; then our new actions generate a new world.
Through its international network of Brahma Kumaris Centres in over 110 countries,  our Headquarters, the Brahma Kumaris World Spiritual University (BKWSU), provides people with opportunities and settings to voice their opinions on critical matters that impact their daily lives, and it ensures that these messages make their way back to the United Nations through written and oral statements and other publications presented at UN conferences and meetings.
The BKWSU holds the following positions with the United Nations …
General Consultative Status with the Economic and Social Council (ECOSOC) – affiliated since 1983
Consultative Status with United Nations Children's Fund (UNICEF) – affiliated since 1987
Consultative Status means that the BKWSU may be consulted on areas they have expertise on in relation to matters that affect the economic and social lives of people, and the humanitarian and developmental assistance to children and mothers in developing countries.
In order to have consultative status, an NGO must satisfy a number of criteria such as, membership must broadly represent major segments of society in a large number of countries in different regions of the world; it must be closely involved with the economic and social life of the peoples of the areas it represents; and, it must have demonstrated that it has substantive and sustained contributions to make towards the achievement of the objectives of the United Nations.
Associate Status with the Department of Public Information (DPI) – affiliated since 1980
Associate Status with the DPI enables the BKWSU to be known globally, be involved in advocacy efforts to help monitor and implement international agreements, actively plan and participate in activities, events, conferences, briefings etc, and have access to resources and networking opportunities.
The criteria for this status includes being a reputable NGO with national, regional or international standing and operate solely on a not-for-profit basis.
Observer status to the United Nations Environment Assembly of the United Nations Environment Programme (UNEP) – affiliated since 2014

Observer Organisation to the UN Framework Convention on Climate Change (UNFCCC) – affiliated since 2009
Observer status entitles an international organisation to limited participation in the work of the United Nations.  Limits may include speaking, voting and signatory rights on working papers.
Flagship Member of Education for Rural People (ERP) program of the Food and Agriculture Organisation (FAO).
An important program (flagship) of the UN led by the Food and Agriculture Organisation is Education for Rural People (ERP).  It is one of the Partnerships of the UN Commission for Sustainable Development and also one of the flagship initiatives of the Education for Rural People programs led by UNESCO.
Representatives of the Brahma Kumaris at the UN Meeting about 'The World's Largest Lesson Project – 17 Goals to Change the World'